Our primary service area is within the Orting School District boundaries. Our Food Bank will not be able to provide you and your family with enough food for the month, but we are here to help fill in the "gaps" or "get you thru." PLEASE don't depend on the Food Bank to meet all your grocery needs. We base what we give on what is donated to us and it always vary. If you are in need of food for yourself and/or family, PLEASE don't hesitate to contact us! This is a "bank," sometimes you make deposits and sometimes you make withdrawls!! Times are tough all the way around, and we have to stick together! Please understand we may offer other items such as pet food, and other household items, however, we don't guarantee we will always have these items. Again, it is based on what is donated to us.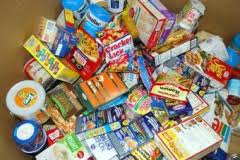 Here are some things you need to know before coming for the first time:
Transportation is important but NOT required. Just remember, we give a lot of food when you come and is too much to carry by one person. If you are walking, bring a wagon of some sort. IF transportation is a problem, please give us a call. Although we do not provide transportation, there might be an idea we may have that might help.
We provide assistance to all people without regard to religious preference, race, ethnicity, age, sex, marital status, or disability. All services are given at no charge with no obligation or expectation of return. We distribute food on Mondays from 3:00-6:00pm, Wednesdays 12:00-3:00pm, and Friday 9:00-12:00.