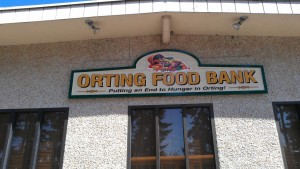 Our beautiful sign was donated by VALLEY SIGNS!  Thank you Joe and your team!!!
The Orting Food Bank is located at :
224 Washington Avenue South
Orting, WA 98360
Our telephone number is:
360-893-0095
Our fax line is:
360-872-0497
We are open for distribution of food on:
Monday 3:00pm – 6:00pm
Wednesday 12:00 noon – 3:00pm
Friday 9:00am – 12:00 noon
No appointment required
We are primarily operated by Volunteers, so our "work" hours vary. We have workers onsite 6 days a week (closed on Sundays) stocking shelves, receiving donations, cleaning, and getting ready for distribution days.
The Orting Food Bank, Inc. is a nonprofit 501 (c) 3 EIN: 20-8562623 UBI:602-701-449